The
first North American avalanche incident
already occurred about a week ago, in British Columbia, and even claimed one life. But it was essentially an industrial workplace incident, and while an avalanche is an avalanche, regardless of what the victim was doing at the time, I suspect that some of the human factor dynamics at play are different when the party is out to get a job done, versus ski some fun snow.
But now we have the first U.S. avy incident of the season, involving three skiers.
Being avalanched at any time of year is bad, but at the very beginning of the season ... well, let's just hope this at least scares everyone straight out there.
http://www.mtavalanche.com/node/1286/
Avalanche partially buries three skiers, injures one.
Three Skiers Partially Buried and One Injured in Bridger Range
On Sunday, October 28, three skiers were in the northern Bridger Range ascending a south facing slope immediately south of Frazier Basin when they triggered and avalanche. All three were partially buried with one injured. The avalanche was triggered near the ridgeline as they were skinning uphill. They felt the slope collapse with a "whumph" and saw the slope fracture above them which swept all three to the bottom, but not before beating them up on the rocky bed surface with one suffering a deep knee laceration and hip injury. Luckily they were not completely buried in the slide. The skiers were buried to their chest or armpits. At noon they called Gallatin County Search and Rescue to toboggan the injured skier out which was completed by 3:30 p.m. This time of year the best skiing will be found on wind-loaded slopes where the snow is deepest. This accident reinforces the behavior of only traveling one at a time in avalanche terrain and carrying rescue gear. Eric, Mark and I will head to the avalanche this morning to investigate the snowpack. We will post more details in the next few days.
No Name Bowl Avalanche Path
The avalanche broke near the ridgeline where it was windloaded. The skiers felt the slope "whumph" and then watched cracks propagate above them before they were all swept downhill and partially buried. They got beat up on the rocks, which injured one, but there was also plenty of snow to completely bury them, which luckily did not happen. Photo: GNFAC
Avalanche: No Name Bowl Overview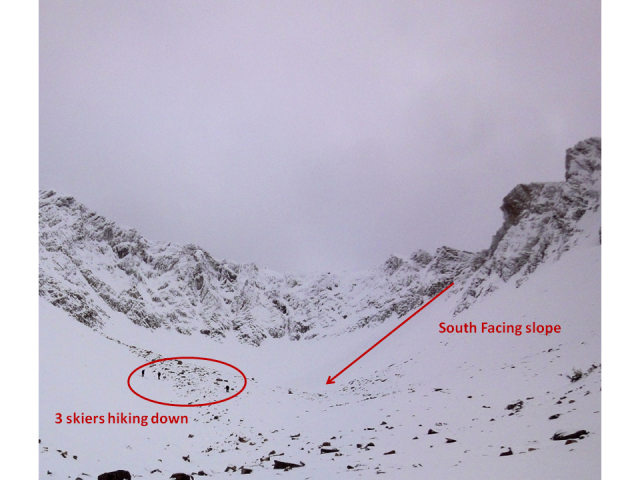 Three skiers triggered and were caught in an avalanche in the northern Bridger Range as they skinned uphill. They were all swept to the bottom getting beat up on rocks along the way. The skiers were all partially buried. One was injured and was evacuated by Gallatin County Search and Rescue. Photo: GNFAC